Registration Procedure

- People attending this conference are required to register in advance. Registration for each session will be closed when all vacancies for the particular session are filled.

- After downloading the application form, please fill in the form and fax it to the CEDEC Management Office.
[ Registration Form (pdf) ]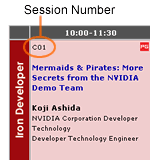 Please put the session number you want to attend in the Registration Form.
The session number can be found in the session schedule.



- The final day for application submissions is Friday, August 27.

- Please pay the attendance fee at the conference site on the appointed day and receive a participation card.
Inquiries

CEDEC Management Office

e-mail:cedec@cesa.or.jp

3F Nishishimbashi Annex, 1-22-10 Nishishimbashi, Minato-ku, Tokyo 105-0003

TEL. +81-3-3591-1421
FAX. +81-3-3591-1422