Home >Developers Night
Developers Night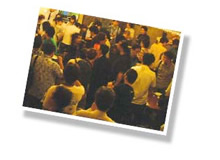 Many leading figures of the industry, including CEDEC lecturers, will join this party on September 2 (Wed).
We are looking forward to seeing you at this party, a forum that will provide you with precious opportunities to not only widen your circle among the developer community but also to meet new people from other backgrounds and, thereby, increase your chances of doing business.
Date
September 2 (Wed) 19:00-21:00
Place
PACIFICO YOKOHAMA Conference Center 3F (303+304)
Fee
5,000 yen/person (tax included) (Buffet: free food and free drink)
Application
Applications will be accepted at the General Reception Desk on the second floor in the order of arrival.
※The number of tickets available is limited. Please apply for the party early.
Expected participants
Lecturers, session audiences, invited guests and other concerned people
List of Sponsors
Platinum Sponsor
Sony Computer Entertainment Inc.
Nintendo Co., Ltd.
Gold Sponsor
Crytek